Exhibit Terms & Conditions
4th Floor - Vendor Exhibits
Assigned Booth#
Booth Type
Vendor Name
Gold & Diamond Jewelers
19
Gold Jewelers
Yuvika Jewelry
20
Yuvika Jewelry
21
Yuvika Jewelry
22
Gold Jewelers
PMJ Jewels
23
PMJ Jewels
201
Gold Jewelers
Vasundhara Diamond Roof
203
Vasundhara Diamond Roof
101
Gold Jewelers
Sri Krishna Jewelers
103
Sri Krishna Jewelers
202
Sri Krishna Jewelers
204
Sri Krishna Jewelers
10
Jewelers
Kalasha Jewels
15
Jewelers
Sri Vardhaman Jewelers
Boutique & Fashion Jewelry
1
Boutique
Swarna Collections
2
Boutique
Sai Art Gallery
3
Boutique
Sriya Designer Boutique
4
Boutique
Hareli Hers
5
Boutique
Anagha Jewellery
6
Boutique
Trendy Traditionals
7
Fashion Jewelry
Sri Shubham Selections
8
Boutique
Festivogue
9
Boutique
Kanthakshetra
11
Boutique
Kalavastra
12
Boutique
Mayees Botique
13
Boutique
Mayees Botique
14
Boutique
Sunitha Designer Sarees
16
Boutique
Swapna's Collection
17
Boutique
Anupama Creations
18
Boutique
Kaluva
32
Boutique
SWAN Collections
33
Boutique
Mahika Collections
104
Boutique
Visista collections
100
Boutique
Krishna's botique
102
Fashion Jewelry
Rekha Jewelry
205
Sarees
Vanamala
Sevices & Non-Profit
24
Services
ICICI BANK
25
Services
Telugu Foods
26
Services
IVY Academy
27
Real Estate
Vaikunt Developers
28
Services
New York Life Insurance
29
Services
Little Org
30
Services
Indo Nepali Rudhraksha Organization
31
Non-Profit
SiliconAndhra
1st Floor - Vendor Exhibits
1-A
Real Estate
KMV Spaces
1-B
Real Estate
KMV Spaces
1-C
Real Estate
G & C Investments
1-D
Real Estate
G & C Investments
1-E
Real Estate
Sahiti Group Realestate
1-F
Services
InnoWealth Financial Group
1-G
Services
Goofy Turtle - Toy Shop
1-H
Services
Goofy Turtle - Toy Shop
1-J
Services
Hot Star
3rd Floor - Exhibits - Only Skirted table and Chairs
3-A
Services
Atlanta Cricket fields
3-B
Non-Profit
TANTEX
3-C
Non-Profit
Isha Foundation
3-D
Non-Profit
Chaitanya Saradhi - Digital Schools
3-E
Non-Profit
Mangoes
3-F
Non-Profit
Gaudiya Vaishnava Association
3-G
Non-Profit
Satyanarayana Swamy Temple
3-H
Non-Profit
Natural Products
3-I
Services
Vivek Flowers
3-J
Services
MyHome Grocers
3-K
Non-Profit
Chetna Foundation
3-L
Non-Profit
VEC
3-M
Non-Profit
Akshaya Patra Foundation
3-N
Boutique
Tanseem Designs
3-P
Non-Profit
North Texas Food Bank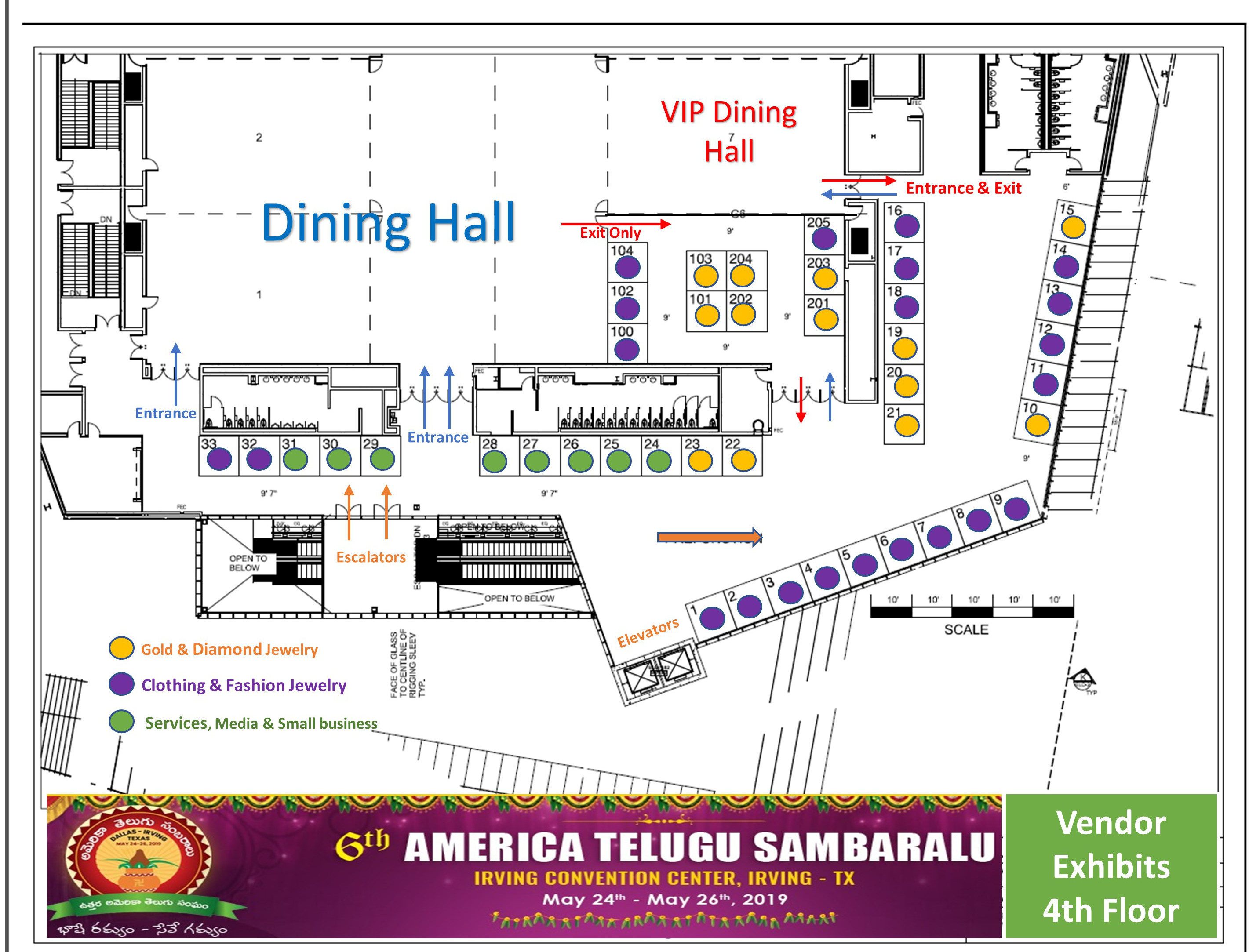 North America Telugu Society is conducting its 6th Conference "America Telugu Sambaralu from May 24th – May 26th at Irving Convention Center, Irving, TX. We are expecting over 6000 convention participants from all across North America. Prominent speakers, government representatives and popular Tollywood celebrities from India would be participating in this convention in addition to North American talent.
We cordially invite you all to exhibit, network and show your support to North America Telugu Community. Please contact Subhash Nelakanti or Suresh Pathipati or Premalatha Gadde for registrations at Exhibits@sambaralu.org
Exhibiting, Vending, Advertising, and Sponsoring Opportunities:
Market your brand name and products to thousands of conference participants.
Sponsor an event to show your company's support to Telugu community.
Great Opportunity for Marketing, Networking, Collaboration and Product Promotions.
Prominent US destination for reaching out and easy access to wide variety of NRIs.
Irving (Dallas, Texas) city is within driving distance for nearly 250,000 Telugu vibrant community.
Conference Address:

6th America Telugu Sambaralu Irving Convention Center
500 West Las Colinas Blvd,
Irving, TX 75039.
| Day | Date | Exhibit Hours |
| --- | --- | --- |
| Saturday | May 25th, 2019 | 10:00 AM to 09:00PM |
| Sunday | May 26th, 2019 | 09:00 AM to 09:00PM |
Vendor Exhibits Contact Information
Suresh Manduva

Director, Revenue Generation

Sreelu Mandiga

Co-Director, Revenue Generation
Subhash Nelakanti

Chair, Exhibits

Premalatha Gadde

Co-Chair, Exhibits

Suresh Pathipati

Co-Chair, Exhibits
Sudheer Somisetty

Team Member

Vani Dronavally

Team Member
Please sign the form after carefully reviewing the following terms and conditions:
Each exhibit booth – size 10'X10' includes an exhibitor ID, 8' rear draping and 3' side draping, one6'X30" skirted table, 2 chairs and a wastebasket. A 10'X20' booth includes an exhibitor ID, 8' rear draping, 3' side draping, two 6'X30" skirted table, 4 chairs and a waste basket.
Each 10'x10' exhibitor receives 2 admission passes and each 10'x20' exhibitor receives 4 admission passes. Please provide the names for badges and security clearances.
Booth allocation is on a first-come first-serve basis. Booths will be allotted upon full paymentonly. Amount once paid cannot be refunded and is not transferable.
Exhibits committee has the right on final allocation of booths and changing the layout at anypoint of time. NATS or Convention center is not responsible for any theft or loss or damage to your goods.
Insurance will not be provided by NATS or Convention Center. You can have insurance on your own.
Exhibits committee has the right to refuse a booth to anybody.
NATS or Convention center is not responsible for any kind of taxes or permits. You must complywith all Texas laws and regulations for exhibiting.
Exhibitor is not allowed to sell/display any products other than the category listed in the application. No food or drinks can be sold unless you are authorized food vendor.
Internet, Power, equipment & services are at extra cost.
Any kind of damage to the convention center property will be borne by the Exhibitor.
No nails or screws may be driven in to the floor; no damage of any nature may be done to thebooth structure or to any part of exhibit hall. Exhibitor warrants against structural damages, shall be held responsible for damage for individual exhibit area, and agrees to indemnify NATS for anysuch damages.
Convention committee reserves the right to modify the floor plan at any time based on circumstances.
No open flames are allowed. All exhibitors must adhere to the local fire department regulations. All wiring mustmeet appropriate safety specifications. Each exhibitor is responsible for the knowledge and compliance of all laws,ordinances and regulationspertaining to health, fire and public safety while participating in the convention.
Platinum Sponsors

Diamond Sponsors

Gold Sponsors

Silver Sponsors

Co-Host

Media Partners